Betsy's Cycling for Service - March
3/30 – Fredericksburg, TX to Navasota, TX
3/28 – Fredericksburg to Buda - While the morning was overcast, a carpet of blue bonnets and other wildflowers lined the road for miles and brightened the day! As scenic as this ride was, I had to dig deep to get myself down the road. I started the day feeling depleted because I didn't rest enough while in Fredericksburg. And the relentless crosswinds and headwinds over 88 miles and 4,700 ft. elevation made the entire ride even more exhausting. I was so tired, more than a few times, I seriously thought about jumping off the bike and throwing myself spread-eagle into the blue bonnets for a nap. After 7+ hours of riding, we finally arrived at the Holiday Inn in Buda, TX. Poor Glenn didn't understand how exhausted the team could be after a ride until he watched us drag ourselves into the hotel. Shelley was there to meet us, and she joined the team for dinner. I'm very excited about having more "girl power" on this trip!
3/29 – Buda to Giddings - Glenn saw us off this morning and headed to the airport for his trip back to Denver. I joined Dave, Richard, and Shelley for the 75-mile ride to Giddings. The winds were much lighter and the overall ride was much easier and less energy-consuming than the day before.
3/30 – Giddings to Navasota - This morning, we started off the ride on a 3-mile gravel road. We watched deer jump over fences and passed a ranch with exotic game. This ranch is one of many that we've passed, where exotic animals are caught and imported into the ranch for hunting purposes. This morning, we saw Emu and some four-legged animals we couldn't identify. This was another 80-mile day with swirly winds coming from all directions. It was Shelley's second day of riding with the group—and it was a monumental step forward for her for a big reason.

ENTRY 3/27 – Del Rio, TX to Camp Wood

Segment Three of the ride is now complete and it's been another great week with the wonderful men in spandex. We're now officially halfway through the country (and the State of Texas too), with 1,498 miles under our collective belts!

So far, I still completely love cycling and am looking forward to being a free spirit on wheels for another 22 days. Here are some lessons learned from this past week:
If you enter a small-town eating establishment and your server is openly carrying a Kimber (pistol) on one of her ample hips, order whatever she tells you to and you'll get along just fine! – In many of the small towns that we've visited, restaurants are forced to rotate days of business so they can keep their doors open. This was the case in Sanderson, TX where our waitress showed unbridled disdain toward the motley crew of out-of-town cyclists who sauntered in and occupied most of her tables. But when Richard asked her in his rich British accent, "What exactly is Texas toast?", he melted her heart and she was cordial to all of us after that!
Fellow cyclist Richard coined the acronym TWB (Texas Wash Board) to describe the horrid chip seal that coats the roads we're traveling in South Texas. Chip seal is a thin film of heated asphalt liquid sprayed on the road surface, followed by the placement of small aggregate ("chips"), and is 20-25% cheaper than a regular asphalt road. It looks like packed down gravel but rides like a washboard, forcing bruxism with every wheel rotation. One day, I tried wearing my mouthguard to keep my teeth from chattering and to protect my mouth from the splatter of small rocks kicked up by passing vehicles and bikes. It didn't work. When I squirted water into one side of my mouth for hydration purposes, I drooled from the other side. I gave up on that idea and am hoping that I don't crack a tooth while the chip seal prevails. Interestingly to note, the TWB changes color and character (i.e., roughness) with every county line that we cross.
Warning, this one skirts the edge of TMI (too much information)! My definition of a "proper bathroom" has drastically changed since our wheels hit the pavement in early March. A proper bathroom is any enclosure with a seat and a door that locks. This includes roadside Port-a-Johns and service station restrooms that are clean . . . or not. Whenever a proper bathroom is not available for a lady on the road, her choices include bushes, ditches, or behind the van while everyone politely faces the other way.
I'm disappointed to say that we have still not seen any armadillos along the roads. I'm giving up on the little armed creatures now that we've entered Texas Hill country. However, based on the number of motorcycles that have thundered past us this week, the count for those is in the hundreds.
It's always fun to spend time with my husband when exploring new places and sites.
Segment Four comprises the next 469 miles and an exit from Texas into Louisiana on the last day. This segment will mark a new chapter for the team since Craig left us today and Shelley will join us in Buda, TX for the second half of the ride. Everyone is looking forward to welcoming her.


ENTRY 3/24 – Del Rio, TX to Camp Wood, TX
The team didn't know how heavy our legs would be on today's ride after the 119-mile day before. But with two 80-mile days ahead, this one was easiest because the elevation gain was minimal, and we had reasonable winds. Upon our arrival into Camp Wood, we checked into The Cowboy Motel, a boutique inn featuring newly refurbished rooms with monochrome décor and western artwork by artist Laura Goodson, who currently resides in Denver, CO. Between arrival time and dinner, some of us went out for ice cream and milkshakes, while others rested. For dinner, we piled into the van and drove down to the King's Texas Smokehouse. The portions were truly Texas-sized, the waitress very pointed about our orders, and large glasses of sweet tea and buttermilk pie were available in abundance. After dinner, we sat outside on benches and watched some Sweet 16 games on a small laptop screen until somnolence overtook us and we dragged ourselves to bed.
ENTRY 3/25 - Camp Wood, TX to Ingram, TX
We entered the Texas Hill country today, and it was marvelous. How do you describe those hills? Endless folds of road that look like striped taffy, rising and falling as far as you can see in the distance, draping over the hills and limestone cliffs and cutting through groves of bright green trees. I have spoken of undulating rollers, and that's really what these are. This day included about 5000 ft. of elevation gain. All day we enjoyed a giant roller coaster ride, sweating up steep grades, only to enjoy the thrill of a fast cruise down the other side. Everyone rode at their own pace over the gargantuan hills.
Good people abound across the south. Cyclists riding solo across the country go both ways – West to East and East to West. Fellow cyclist Bill is our rolling hospitality guy. He goes out of his way to stop and chat with every cyclist he sees. For example, we met Florian, a Frenchman who took planes, trains, and automobiles to begin his ride across the U.S. Before Florian continued his journey, Bill gave him some snacks and important information about road conditions and sites to see.
ENTRY 3/26 - Ingram, TX to Fredericksburg, TX

This was the last day of Segment Three, and it only took about 3 hours to complete the 40 miles from Ingram to Fredericksburg. We cycled through a vast spread of ranch land with groves of tortuous live oak (and an equal amount of "dead" oak), fields of steer, weathered barns, and farm homes.

In advance of our arrival, my husband Glenn had scheduled a deluxe pedicure for me at the spa adjacent to our hotel, but the nail lady no-showed. I had been dreaming of the pedicure and was so desperate to have one that I jumped in an Uber and rode across town to the U.S. Nails to satisfy my longing for pampered feet and tawny red toenails. I chose the Jelly Massage Pedicure, which included a 50-minute pedicure and a 20-minute massage. Nail technician Kelly immersed my feet in a basin of warm water and added Cherry Sage gelatin to soften my battered, road-weary feet. Once immersed, my toes gained first-hand knowledge of what chunks of fruit feel like when added to a jello mold. It was a splendid experience!
ENTRY 3/27 – Fredericksburg, TX – Rest Day
The team is sad to say goodbye to Craig. He signed up for half of the tour and wishes he could ride to the finish, but life and family call, so his time is up. The Ingram to Fredericksburg leg was our last ride with him, so everyone tried to stick together and enjoy as much Craig-time as we could. Craig is our triathlete who competes in Sprint and Olympic triathlons and wins a good number of events for his age group. He is lithe, disciplined, and rides like the wind. He entertained us with stories about growing up in South Jersey on a vegetable farm. He horrifies his tofu and salad-eating wife with detailed descriptions of his culinary exploits, like the night in Camp Wood when he ordered "The Beast" – a sandwich stacked with brisket, bacon, sausage links, cheese, jalapenos, and salad piled between two pieces of Texas toast. In addition, there were sides of fried okra, fried potatoes, and fried onion rings. While in Ingram, we visited an all-you-can eat catfish restaurant. Craig further horrified his wife with a photo of his mountainous plate of fried catfish, fried shrimp, fried okra, and mashed potatoes with gravy.
Like Tim and Leo before him, Craig will be greatly missed by the team. But change is part of life, and a paycheck keeps the lights on, so we understand that he must return home.
ENTRY 3/23 – Sanderson, TX to Del Rio, TX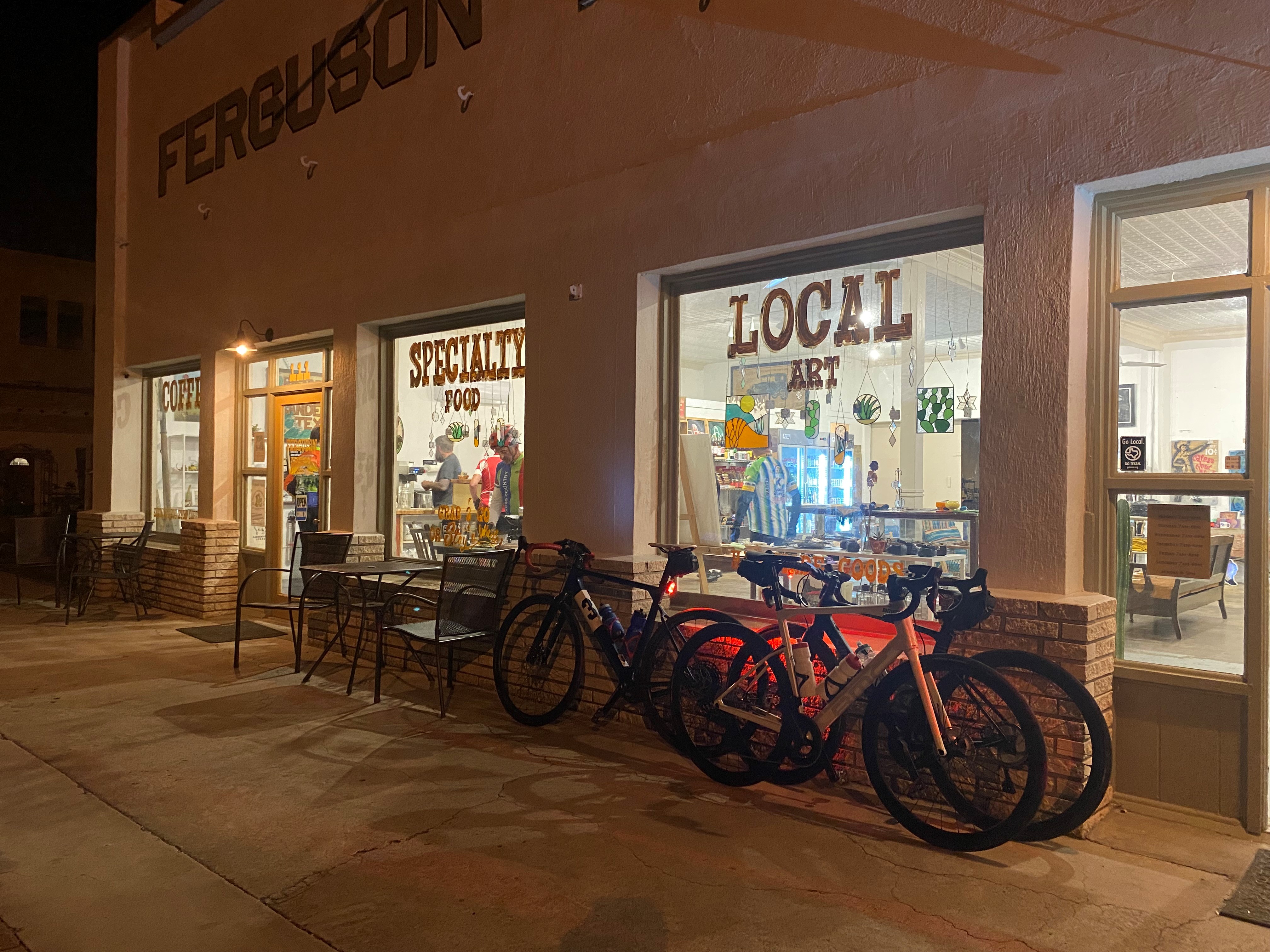 We're coming off a couple of two easy cycling days with warm weather, mostly light winds, and roughly 53 miles distance each. Today was the biggest mileage day we've had so far, 119 miles, and I must admit, it was a bit daunting to think about. Add 3,998 ft. of elevation to the route, and that made the challenge even greater. But….we did it! We left the hotel on our bikes in the dark. After a breakfast of coffee and breakfast sandwiches, we set off down the road. Items of note were the rough chip seal road surfaces that were horrible to ride on, a flat tire that occurred after I ran over a cow skull—only in Texas, right?!, and a very long day to the finish—9-1/2 hours total cycling time. We have two 80-mile days to tackle before we roll in to Fredericksburg, TX. My husband Glenn will be there to greet us when we arrive. I'm really looking forward to seeing him and having some fun around the Fredericksburg and Austin area.


A Little Slice of Heaven
Cycling for me, in a word, is soothing. Like this morning when the team left the Desert Inn Hotel at 7:00 am and cycled down the street in the dark to Ferguson Motors in Sanderson, TX, population 654. The baristas served us coffee and breakfast sandwiches while a little three-year-old boy in pajamas rode his training wheeled bike in circles around us as we ate. Around 7:45 am, we biked off through Sanderson Canyon on a day's journey that would cover 119 miles. The darkness was just beginning to give way to a misty gray dawn as we pedaled up and down the undulating rollers of a Texas-sized highway.
I broke away from the other cyclists because I wanted to enjoy some quiet time and to experience the emerging day in a sensory way. As I pedaled, I was thrilled how birds broke the silence with shrills and trills to each other across the highway, how the early morning mist caressed my face, and how the canyon walls were sprinkled with succulents in spots that didn't seem able to sustain any life. As the sun rose higher, I admired the big sky, endless rolls of plains, and shocks of multicolored flowers springing forth from the grass—bright yellow daffodils and orange, purple and pink wildflowers with intricately shaped and colored petals. Whether you believe in God a lot, a little bit, or not at all, I don't know how anyone can deny the majesty of His creation on a morning like this. It was heavenly!
Later in the morning, fellow cyclist Doug broke my reverie as he blew past me and cheerfully said, "It's just a like a little slice of heaven, isn't it?" While his comment was in reference to the large stretch of teeth-rattling chip seal that had just given way to some smooth, newly paved road, it directed my thoughts to some little slices of heaven that I've experienced at VOA.
I see little slices of heaven in every smile. Like when I delivered Meals on Wheels to Miss Lometa—a tall, lanky centenarian with two shoulder-length braids who broke out in a beautiful smile every time I delivered her hot lunch and stayed for some conversation. I see slices of heaven in the volunteers who "work for smiles" at Gayle's AmeriCorps Seniors RSVP special project events. They gather and assemble packets and bags and kits. Like worker bees, they accomplish big work and their smiles come from the satisfaction of helping and making others feel good. I see slices of heaven in the smiles of the Foster Grandparents when they tell stories about the wonderful children that they work with in the schools. And I see little slices of heaven in the "I Remember Mama" mama's who dress up to the nines on delivery day and greet you at the door wearing a smashing hat and sparkling smile because they know that you have come to visit and honor them because they are "mama's"!
There are many slices of heaven in the VOA world. Ask someone what they are doing for others. They will likely smile and then tell you. It's just as simple as that.
ENTRY 3/18 - El Paso, TX to Clint, TX
My last post left us starting up a mountain pass out of West El Paso with a steep ascent at the beginning of the ride. This marked the first of three days of freezing temperatures and harrowing headwinds and crosswinds. Our 51-mile journey took us up and over Franklin Mountain from West El Paso to East El Paso. The first 2 miles of the ascent started easily enough, with the toughest part of the 1,500 ft. climb to be tackled in the remaining 6 miles. All the cyclists were spread out according to their comfort level and climbing speed—no clumps of riders or friendly chatter on this stretch. The temperature at the bottom of the pass was in the 30s, and at the top, 28 degrees. An avalanche of high wind roared down the mountain sides across the road at a speed of 20 mph with 30-40 mph gusts. Whenever a semi truck passed, I would be sucked toward the truck, only to be slammed the other way toward the guard rail after the truck had gone by. And at one point, a gust hit and I thought I would be thrown over the guard rail into the valley below. So I stopped, put my weight against the rail while the gust passed, and thanked God that angels were all around. It was one of the wildest stretches that I've ever ridden on a bike. (NOTE: Over this day and the two subsequent ones, our guides frequently advised us that we could stop cycling at any point and ride in the van. However, most of us were determined to complete the miles instead of taking them up on their offer.)
We had a long, winding descent on the way down the pass. At the bottom, most of us were very chilled and looking for shelter. We found Hilda's Tamales Restaurant and limped in to warm up. Hilda made large cups of the best and creamiest Mexican coffee I do believe I've ever consumed. The coffee warmed us to the core. We continued toward Clint, but not without punishing winds the rest of the day.
ENTRY 3/19 – Clint, TX to Ft. Davis, TX
The two days from Clint to Ft. Davis were no better in terms of cold temperatures and winds. Since many of us felt that we had failed to dress warmly enough on 3/17, we put on just about every layer of clothing that we brought for the 3/18 leg. We worked as a team by sharing extra clothing items. Stephen shared an extra pair of gloves with me. David offered me an extra pair of booties for my feet because the booties I brought didn't fit around my new cycling shoes. In spite of the extra layers, our hands and feet kept freezing up due a starting temperature of 35 degrees, 17 mph winds, and some early morning sleet that stung like glass shards when it sprayed our skin. The SAG wagon was in constant motion, stopping every 5 miles to have us hop in the van and thaw our fingers and toes before heading back out into the chill and wind.
About 5-1/2 hours into the ride (Clint to Van Horn), Dennis made the call to load up the van with the team and the bikes. It was a decision that few of us wanted to make on our own, but we were relieved that he did. This failure to complete the mileage required some degree of self-grace. But we were so cold and exhausted that we couldn't realistically continue the fight against the elements anyway. When we checked into the El Capitan Hotel in Van Horn, everyone headed for hot showers to warm up. I bought a $6 chocolate bar by mistake and ate the entire thing as a reward for the tough day!
On 3/19, we had 79.8 miles to complete, and we were determined to ride every mile. We started from the hotel in Van Horn early because the headwinds were reported to pick up speed by 10:00 am. We left around 8:30am. True to the predictions, the headwinds howled in on schedule. We forged ahead in a tight group to help block the wind. After 7 hours on the road, the wind began to shift in our favor. We reached some downhill stretches and enjoyed some tailwinds. Two hours later (about 9 road hours total for the day), we dismounted our bikes at The Limpia Hotel in the charming town of Ft. Davis, home of the historic Buffalo Soldier training camp.
ENTRY 3/20 – Ft. Davis, TX
Segment Two of the ride is now complete. My road family and I can't believe that we're now 1,071 miles into the trip—1/3 the way through—and we are rested and ready to take on Segment Three. To date, we've said our farewells to two riders—one due to a scapula injury after a road mishap, the other because he only signed up for one segment of the trip. We enjoyed a low-key day of rest, with a little adventuring around town and lots of eating. Here are some lessons learned from Segment Two:
Three days into Texas, there are fewer armadillos on the sides of the road than I expected. The current count of roadside fauna is one 6-ft. tall sheet metal armadillo, 8 jack rabbits that didn't run as fast as the F-150s that hit them, and 10 unfenced dogs that gave us chase on the open road. One rider, Craig, refers to the dogs as "yappers". A yapper includes anything from agitated, teeth-bearing chihuahuas to disgruntled, medium-sized mutts to large, menacing German Shepherds that haven't been able to catch us (or that we haven't been able to call off) yet.
I usually rise and shine around 5:30 or 6:00 am. Since I sleep in a single hotel room every night, I like to turn on the TV for a little noise in the morning. I have learned that early morning TV selections are about as unappealing as early afternoon TV. If you don't want to watch the morning news, you're left with choices like "Parking Wars," "Never Fear Power Outages," and "For the Love of Snakes."
South Texas can be just as cold and unpredictable as Colorado, and when hit by a 40 mph crosswind, it IS possible to ride tilted at a 45 degree angle to the ground. The SAG wagon that drove past me during the wind gusts on Franklin Mountain attested to this very odd sight.
Our current location on the map is best explained by a Texas-shaped waffle.
Segment Three comprises the next 427 miles of our journey. The good news is that warmer weather lies ahead, and we're hoping for tailwinds as well. We'll need these more favorable conditions to tackle a 119-mile ride later in the week.
ENTRY – 3/17 – Columbus, NM to El Paso, TX
Well, we finally made it to Texas, and we'll be here for the next 17 days. Yesterday's ride felt like a cruiser run—65 miles with less than 1,000 ft. of total elevation gain. The roads were smooth and the tailwinds were mostly at our backs. The most notable view for me was the border wall looming off to our right for the entire length of the ride. There were lots of border patrol vehicles, spotlight / infrared apparatus set ups, border stations, and barbed wire fences. In parts, the barbed wire and surrounding area was strewn with debris like empty water containers, Styrofoam boxes, and heaps of clothing articles that looked like they had been emptied hurriedly out of a bag—pink t-shirts, jackets, pants, children's clothing. I couldn't help but wonder about the circumstances around the quick abandonment of those belongings, as the items didn't appear to be blown in from down the road. About 4 miles from the hotel, we finally passed the Texas State line and gazed across the sprawling city scape of El Paso. As for 3/17, the beginning of today's 51-mile ride will be tough because we start by climbing 1,500 ft. in an 8-mile stretch, but then the road will flatten out for the remainder of the ride into Clint, TX.



The Value of Empowering Others
At 5 ft ½ inch tall, I don't exactly look like a powerhouse. I'm more aptly described as pint-sized at best. If someone had told me at the beginning of a recent cycling day that I would be pulling a pace line at 25 mph, I would have said "that's impossible!" However, that's just what I did when the tailwinds were blowing directly at our backs. I was so busy trying to pull the line that I never looked down at my speedometer. I only learned about my speed when one of the cyclists complimented me as I was dropping off to the back of the pace line.
On a bike, tailwinds are an empowering means to move forward rapidly. In life, if we're paying attention, simple gestures can cause others to feel empowered. For example, on Martin Luther King Day 2023, VOA hosted a special MLK dinner at VOA's Sunset Park apartments. The VOA kitchen staff prepared a delightful BBQ dinner and many enthusiastic volunteers served the Sunset Park and Sunset Towers residents and homeless individuals who were seated at the tables. Outside in the courtyard, VOA set up tables to distribute hygiene kits and ARC laid out mountains of warm coats for the diners to choose from after their meal. It was a festive time with lots of conversation and live music. While CEO Dave Schunk was kicking up his heels on the dance floor with the diners, I went outside to chat it up with the volunteers and diners. Time went by and the event ended. My job was to help pack up the hygiene kits and put them in a nearby car. We stuffed all the individual kits into 13-gallon bags and I rolled them toward the car in a wagon. I came to a halt when I spied two sets of steep stairs leading down to the parking lot. Two homeless gentlemen noticed my dilemma and asked me if they could assist. They carried the bags down the stairs and helped me load them into the car. Later, I thought about the two men because I was so touched that they would offer their time and muscle to help me. They had been given a delicious meal, kits, and coats and could have stood by and just watched me struggle with the bags. Instead, they offered to help. Their assistance empowered me to complete my job. My acceptance of their offer empowered them to feel good about doing a good deed. I really appreciated them that evening! I hope they felt valued for their kind actions. It was a simple moment for the three of us, but it made a big impact on me.
Volunteers of America Colorado seeks to identify and serve the basic needs of the most vulnerable individuals and families in the communities we serve. And our services empower people every day. Our City Harvest food garage empowers food banks to stock their shelves with healthy food for those who need it. Our senior lunch and Meals on Wheels programs empower senior recipients physically and emotionally by filling their stomachs with hot lunch and their hearts with quality socialization. Our Foster Grandparent program sends senior adults into schools to empower kids to read and perform better academically.
In a world where everyone needs more validation, we just need to pay attention to the opportunities. I hope you will look for small ways to help others feel empowered, and as a result, valued too.
As we say in the cycling world, may the winds always be at your back!
ENTRY 3/15 – Benson, AZ to Columbus, NM
We've covered a lot of miles since my last post. You would think that the 49-mile day on 3/13 would have been easier than the subsequent 85- and 99-mile days, but that was not the case. On 3/13, we biked 25 miles to Tombstone, AZ and stopped long enough to sip icy cold Sarsaparilla at Big Nosed Kate's, visited the oldest original structure in town called The Bird Cage Theatre, and some of us attended a Wild West Shoot Out. The last 20+ miles were all up a hill that reminded me of the upslopes of Deer Creek Canyon near Chatfield Reservoir. We climbed and climbed and climbed some more before descending into the eclectic Bohemian town of Bisbee, AZ. Everything about the town, including the Copper mines outside the city limits, definitely warrant a re-visit! The next two days, 3/14 and 3/15 were the longer mileage days but the pace lines helped to peel off miles and the company was pleasant. Tomorrow, we'll say goodbye to Arizona and New Mexico and head into Texas for a couple of weeks. I do plan to count Armadillos (dead and alive) on the side of the road, so stay tuned for the count!


ENTRY 3/12 – Tucson to Benson, AZ

Early this morning, Wes and I said our farewells before he headed to the airport. Dennis laid out the course for the group and we were on our way. We entered Saguaro National Park and rode around a scenic loop that featured a mountain backdrop and acres of terrain that were blanketed by cactus and desert flowers. We continued East, and by 2:30 pm, we had completed the 65 miles and 3,530 ft of elevation gain to Benson.
At the beginning of the tour, Dennis mentioned that over the next 45 days, we would form tight bonds and learn a lot about each other, our lives, and our families. Nine days in, we have truly become a comfortable little road family, and there is an easy way about the group that I really enjoy. Days are routine. In the mornings, we have 7:15 breakfast, an 8:00 am course briefing, and then wheels to the ground. I ride with the fastest group (i.e., the pace line group) in the mornings to burn off mileage before lunch. We ride at a good clip because the cyclists are very strong—this group includes the triathletes. After lunch, I pedal with another group that rides a notch slower than the pace line group. Once we finish the ride, afternoons are free for relaxation. At 5:30 pm, we meet for a team dinner. We talk about things that happened on the road during the day and send ridiculous chatter and photos on our What's App group chat.
When I said that I was going on an epic ride across the country, I didn't understand until now that part of the "epic-ness" of the journey would be my fellow cyclists and guides!
ENTRY 3/11 – Tucson, AZ
Segment One of our ride is officially complete. With 468 miles and one day of rest under our belts, it's always good to think about lessons learned to apply to Segment Two - Tucson, AZ to Ft. Davis, TX. Here are my top five:
Never choose white handlebar tape – my brand-new white tape job is now stained a dingy brown-gray color due to dusty roads and bicycle grease.
If you're trying to stay awake between 3:30PM and dinner time at a rural hotel, the TV selections don't get much better than "Cindy Crawford's Skin Tips," "Alien Abductions: Real Live Accounts," and "The New Shark Vacuum! Your Pet Hair Solution" – find another way to remain upright.
It's okay to race to the hotel laundry room once you reach the hotel – after a day of riding, there is a literal swarm of riders, as well as other hotel guests, trying to get to the laundry room to snatch up the machines. The challenge is to find one that is not marked "out of order" (which is generally the majority of them).
If you squeeze your shoulders up toward your earlobes for too long during your rides, you'll end up with a very sore neck at the end of the week – thank goodness for massages; Wes treated me to a massage and a pool day at the Ritz Carlton Spa during our day off in Tucson and now my neck feels as good as new!
K Tape (Kinesiology tape) is the best solution for Achilles Heel pain – I pulled my left heel a couple of days before rest day. Wes and I bought a roll and watched some YouTube videos before applying the tape. The tape job was effective and most of my pain is gone.
OK, it's time to tackle the next 603 miles!
ENTRY 3/10
Yesterday was an odd day. Most of the group members were feeling just a little bit off. We were only cycling 75 miles, so the ride should have been easier than the previous days. This wasn't the case. Some of us started the ride with heavy legs that took time to shake off. Others rode independently because they were fatigued from the week. The pace line was out of sync too. Some of us rode too fast and lost the benefit of the draft. Sections of broken asphalt, narrow shoulders, and rumble strips also slowed us down. When someone yelled "car back!" to the pace line, it usually meant that a semi truck or another mammoth-sized vehicle would soon pass, kicking up dust and rattling our teeth as it rumbled by.
Everyone has off days. Sometimes you just have to power through a tough day knowing that tomorrow offers a fresh start. Before dinner, Dennis held a meeting to talk about the day and make plans to rally better as a team tomorrow. He gave us time to talk things through. This and a good meal at a local Mexican restaurant settled our minds and stomachs.
We have 75 miles more to do before we get a day of rest in Tucson—yaay! My son Wesley will fly in and spend my day off with me. This will likely involve a lot of eating, relaxing, and perhaps a much-needed massage!
ENTRY 3/8
Pace lines are used by cyclists to travel long distances at a consistent speed. They help each person in the line to conserve energy and ride at a higher speed than they might maintain by themselves. On a long day, pace lines are lifesavers. Like yesterday when our mileage was 97 miles and today with 88 miles achieved. It really helped me because our bodies were still recovering from the first two days of climbing and acclimating to the distances. I was in a tight group of 7 cyclists, and we rotated positions every 1 – 2 miles. It took a lot of focus to maintain an interval of 6 inches to 1 foot behind the tire of the next rider (to draft properly). Because of the pace line, a couple of us opted to add 3 additional miles to our ride at the end of the day to wrap up a cool century (100 miles total).
Pulling Others Along
On day 2 of my ride, I dropped out of my riding group because I had two flat tires in the space of 10 miles--one flat around the 50-mile mark and the second one at 60 miles. The SAG crew was there to assist, but with each stop, my legs were quickly turning into cement due to all the stopping and starting. With 20 more miles to go, I was wondering how I was going to bag all 80 miles. In stepped Bobby! He had been there to change both tires, but now looked me in the eye and said, "I'm going to pull you home." I drafted behind him the entire way to the hotel. His physical power and awareness of my fatigue helped me reach the hotel feeling safe and supported.
Pulling others along is something that the VOAC programs do every day. For example, the staff and volunteers at Irving St. Women's Residence pull women along who have mental health and social challenges. These might include a combination of losing custody of a child, losing a home, fleeing an abusive environment, and battling mental health issues. Irving St. provides shelter, meals, social services, and emotional support for their residents as long as they need to stay.
Pulling others along is something that our volunteers also do. I ran across Peggy who said she volunteers because "I love to just walk alongside people and listen to their stories." In the past, she delivered Meals on Wheels and turkeys at Thanksgiving.
Circling back to my official "flat tire day," once we reached the hotel, I thanked Bobby profusely. Because of his help, I didn't give up and call for an Uber. In reply, he said, "You're welcome. It's my job."
I think that if more people chose to pull others along because they believed it was their job, the world would be a much better place.
ENTRY 3/7
It's the end of the day, and I need Ibuprofen! My knees are squawking and I'm hungry.....again! I liked the day 2 course better than day 1 because we climbed a total of 2,770 ft in the first 35 miles, then had a nice steady downhill for the remainder of the ride. One of the most fascinating views that I had today was a view of "the wall"! This tall structure dividing Mexico and the U.S. spanned for miles and miles, draping itself across the terrain on flats and up and down the hills and mountains. The picture that I'm posting shows the wall in the background.

ENTRY 3/6

After Glenn and I checked in to the Ocean Beach Hotel this weekend, we began meeting my "12 best friends for the next 45 days". I found myself in the company of some real endurance giants, like one rider who competes in multiple Ironman Triathlons every year and decided to give cross country cycling a try. And another rider, who prepared for this ride by regularly cycling with his Ironman-competitor wife. Our muscle-bound guide Bobby served in the military for 27 years--including 2 terms in Iraq--and participates in Gran Fondo and other cycling events when he's not working with our lead guide Dennis. Dennis comes more than qualified to lead our tour, as he and his wife Elli (both co-owners of Cycle of Life Adventures) have ridden more miles vertically and horizontally across the U.S. than I could possibly count.

As for March 5, Day 1, we started the day with a hearty team breakfast. After which, we walked our bikes across the street to the Pacific ocean to symbolically dip our wheels into the brine. The route was tough—a 5700 ft. elevation gain in 53 miles. The temperatures were unseasonably cold, and by the time we reached Pine Valley, CA, it was 35 degrees. Hot showers remedied the chill and dinner nourished our exhausted bodies. I am finding that I need to figure out hydration a little bit better for tomorrow and will resolve to more diligently "drink when you're not thirsty and eat when you're not hungry" while on this trip. I'm off to bed now, as we've got 80 miles to ride tomorrow.
ENTRY 3/3
This is it—my last work week before the big ride! My husband and I fly to San Diego today. On Sunday, my fellow riders and I will dip our wheels in the Pacific Ocean and begin our first day's ride up rural roads and switchbacks through the Cuyamaca Mountains to Pine Valley, CA.
The work week was a blur! I spent my days packing for VOA's move to the new Commerce City location, saying goodbyes to friends and coworkers (thank you for the prayers and enthusiasm!), collecting signatures on my cycling jacket, and finishing up time sensitive work. At the end of the workday, I headed for home down Broadway past the usual eclectic mix of humanity—a man wearing a warm parka standing next to a man wrapped in a tattered blanket, a woman running up the steps to her apartment complex just steps away from a woman crawling into her tent, a person clutching a briefcase rushing past another person with a grocery cart full of all his earthly possessions, clusters of people with sad and worried faces milling near others with happy and secure faces. This is Denver. The privilege to work for an organization that offers food to the hungry, refuge for the housing insecure, mental health and spiritual support, and so much more is often overwhelming. Our work is people- and labor-intensive most days, and I usually find myself returning home both exhausted and "full".
When I'm feeling tired or frustrated on the road, I will think about the amazing VOAC employees and volunteers who apply heart to everything they do, the programs that we offer to the community, and the amazing people that we serve. It is my hope and goal that "Cycling for Service" can make an impact by providing funding for programs that need a boost. I hope you'll ride along with me by following my blog and checking in with The View each week—I could certainly use the company!
Safe travels


ENTRY 2/25
It's 6 o'clock in the morning, and I am 1/2 caffeinated and 2/3 awake, with a perky cycling instructor commanding me to "go faster" and "move that body"!
Flashing lights and blaring music are driving me toward sensory overload, and I've only been on the saddle for five minutes.
How is it that I find myself visiting a cycling studio before sunrise most mornings instead of sitting in a quiet kitchen drinking a second cup of coffee? I'm in training for an epic bicycle tour across the Southern tier of the United States—from San Diego, CA to St. Augustine, FL. With a March 5 start date, I'm at the height of training to be ready for an average of 70 miles per day with a group of 12 other cyclists
Many people ask, "why are you doing this?"
A cross country bicycle tour has been a goal of mine for the past 10 years because I really enjoy riding distances. Ecclesiastes 3:1 states that "For everything there is a season, and a time for every matter under heaven . . ." I truly believe that God gives us windows of time to be healthy enough to strive toward big goals, and my time to cycle 2,885 miles across the country is now.
While the ride has personal meaning for me as a physical feat, I'd like to give the effort broader purpose by raising funds for VOAC programs. "Cycling for Service" is a webpage that the Marketing team created to share my adventures with family, friends, and the VOAC family. It also offers an opportunity for viewers to contribute as they feel so inclined.
It can be pretty lonely out there on the road, and I'd like to carry my VOAC family along. During the week of Feb. 27, I'll be circulating around the Admin building, VOA Mission, kitchen, and beyond asking you to sign a blue cycling jacket that I will wear during my travels. I hope you'll "ride along" with me by following this adventure!